Roof Coating Services Near me Fort Lauderdale, Fl.
Here To Solve All Your Roof Quoting And Construction Problems!
Fort Lauderdale best waterproofing and roof coating service near me contractor equipped to handle your full-scale roof coating and waterproofing needs as well as your  full-scale roof replacement and roof repair since 2013.
Fort Lauderdale Roof Coating Services Near Me
Are you in need of high quality roof coating services near me in  Fort Lauderdale  and neighboring cities?.  You Have come to the right place.  We help owners like you to fortify  their property against the elements  all at affordable prices!
Roof coatings  are  long lasting and  economical solutions for your low slope flat roofs, metal roofs and tile roofs in Florida. Our solutions includes application for metal,  low slope systems,  especially Built _up_roofing and tile roof restoration coatings. The projects are typically at a fraction of the cost of removing and installing a new roof system.
Your roof exist to protect the building and its occupants and does so for years to come. The roof is subject to the elements, the penetrating rays of the sun, the eroding effects of the rain and changes in the weather. Frequent and proactive maintenance can help to mitigate some  effects.
However, when your roof  eventually wears down with time and  starts to exhibit  signs of aging, you have face with a choice of a  roof replacement or a more economical rehabilitation with  roof coatings. If your roof needs major repairs or is complete  worn down the former choice is inevitable.
On the other hand if you only require a few repairs and you are on a tight budget,  a restoration would certainly be a more  cost-effective solution.   Once your  decision is clear on restoring with coatings, your next step is to find a reputable local contractor experienced  for your  roof restoration  in Fort Lauderdale  Miami-Dade or Panm Beach Fl. That's where expert roofers at Ricketts Roofing And Construction can help you.
Call our offices for your next roofing project.  (954) 588-5670 and talk with us today.
Benefits of Roof Coatings Services In Fort Lauderdale Fl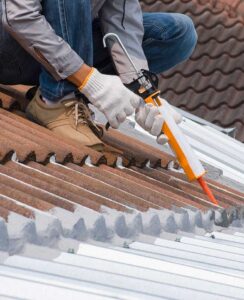 Hire Fort Lauderdale top rated roof coating service near me specialist, Ricketts Roofing & Construction for your next flat roof restoration project or your re-roofing job.
Roof coatings bonds to your roof, forming a watertight bond and seal your roof. This coating is extremely elastic allowing for expansion and contraction when the underlying roof substrate moves due to fluctuation in the temperature.
This quality makes for a long lasting and durable roof cover capable of protecting your roof from the elements, water leaks and other damages.
Secondly elastomeric coating will not only extend your roof's life, but cool your roof lower your energy bills and improve your building's overall health due to the reflective reflective quality of the materials.
With our elastomeric roof coating in Fort Lauderdale, Fl, you'll save a ton, especially on utility and maintenance costs. Aside from the exceptionally affordable prices, when Ricketts Roofing And Construction applies your coating you get the best warranties in the business.
Elastomeric coating can be used for a variety of residential, commercial and industrial roofing systems.
These ranges from built-up roofing, metal roofs, as well as single-ply systems like EPDM. These coatings are especially suited for commercial roofs, as they seal tiny holes, small leaks and prevent new leaks. In Additionally your roof can be re-coated after about 10-15 years, further extending the life of your roof.
Schedule Your Roof Coating Service Inspection And Estimate Today
Ricketts Roofing And Construction  is your trusted service provider  for completing  your coating projects with pride and professionalism.
Whether your projects  requires  oil based, water based, siliconized, urethane or epoxy based application , we have you covered.  Our Pro's  can expertly apply by machine spraying, brushing, or power rolling and with the precision that only our  professional can provide. Call our offices at (954) 588-5670 and talk with us today.
Why Choose Us For Your Next Roof Coating Project
Well, there are many reasons why we continue to be the roof repair service of choice for homeowners in Fort Lauderdale, Florida. However, as someone who might not have used our service yet, here are a couple of reasons why people choose us to replace and repair their roof:
The City of Fort Lauderrdale Building Dept, Fl
The city of Fort Lauderdale  is located in  central  Broward County, Florida. Incorporated in 1911, with major development taking place during the Florida land boom of the 1920s. The city housed the major city of Broward Conty, intertnational air and sea ports, industrial and commercial operations and banking and financial centers.  Over the years the city has had massive  economic growth to support its diversified population of approximately just under 186,000 residents, making Fort Lauderdale the 10th  largest city in the state.
11
Best Roofing Company Oakland Park Fl