Trusted Emergency Restoration Company Fort Lauderdale , Fl.
Heret To Solve All Your Roofing And Construction Problems!
Fort Lauderdale premier emergency roof repair company, equipped to handle all your emergency roof leaks repairs, tarping and construction.We are a full-scale roofing  And construction company, and install your storm proof windows, shutters and , doors  as well as your comprehensive roof replacement and roof repair since 2013.
Comprehensive Emergency Roof Repair & Storm Damage Restoration Services
What's Involved in a Emergency Storm Damage Restoration?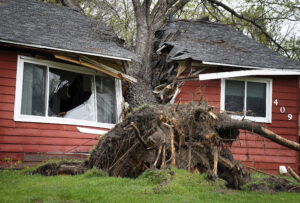 Florida Emergency Roof Wind Damage Restoration Company
Wind damage is very common in South Florida due to  hurricanes, thunderstorms and tornadoes. If your roof is affected by high winds from these weather patterns,your shingles are subjected to incredible stress that can often lead to damage.
If your property is affected or  showing signs of roof wind damage, reach out now Ricketts Roofing And Construction. We'll set up a roof inspection and  check for damage and repair and restore your property.
Emergency Repair Inspection & Estimate
You should arrange to have your inspection done immediately if you are experiencing any leaks, observed water-marks on ceiling or walls or have  recently sustained damage as a result of torrential downpour of  rains or hurricanes.
During your  roof inspection, the contractor will walk around your property looking for shingles on the ground and damaged windows panes and doors. Our roof storm damage assessor will also go up on the roof to inspect for issues like:
Emergency Permitting & Production
After the inspection is completed, you'll get a report detailed  cost estimate covering your  damage.
If you need to file an insurance claim, our team will provide  evidence of wind damage to your  roof. We also assist,  by providing you with  samples of  your new roofing shingles, doors, and windows for your home.
Once the storm damage restoration claim is approved, we'll set up an appointment to start repairing the roof.
Contact Ricketts Roofing and Construction immediately at (954) 588-5670 to set up an appointment for roof restoration  in Plantation, Lauderhill, Tamarac and Fort Lauderdale and neighboring cities Florida.
Solving emergency problems
Emergency Residential Roof Repairs
Ricketts roofing and  Construction endeavors to be your  leader in emergency roof  repairs and  replacement  for the Plantation , Tamarac, Lauderhill and Fort lauderdale, FL area.
Living in Florida you are likely to encounter storms , hurricanes, natural disaters and other emergencies which wreak havoc on your roof, the repairs for which simply just  cannot wait.  You will  experience frustration, stess and  downright inconveniece from the disruption in your home. Not to worry, when these emergency situation arise, we respond quikly to help ypou stop the leaks by providing temporary repairs and covering your roof with tarp and plastic  preventing the rain from entering yopur building , protecting its content and prevent further damage.  When damages occur from these disasters, if not repaired right away, they often lead to more  costly repairs later.
There are several techniques to deal with emergency roof repairs all depending on the particular circumstances.  While at your home or office our field reps will inspect  and analyze your roof for damage stress and fatigue. Whatever the situation our certified contractor will will analyses and recommend a solution to your roofing emergency.
It often requires our team of roofers to remove any  debris or garbage in the damaged  area,  secure the roof with  a watertight  tarp over the distressed area to prevent any further damage. When completely secured a roofing expert will discuss extent of the damage and work with your insurance to schedule repairs.
Regardless of the complexity and type of emergency roof repairs you need,  there will be a dedicated team of experts  and  roofers  available.  If you require affordable,  emergency roof repair in Fort Lauderdale and Plantation, Fl ,  contact us at (954) 588-5670    Immediately  one of our friendly Ricketts Roofing Team member will assist you.
Most  roofing emergency repairs calls relates to hurricane and  wind damage and  animals or critters causing major by burrowing between fascia boards and gutter to the roof attic.
Severe weather still remains  the primary cause of roof damage and repair.  We  we are ready to restore your roof, kitchens and bathrooms among a wide range of  roofing and construction services we offer.  Aside from your foundation, your roof is one of the most important structural component of your building, therefore its integrity is paramount,  That being said it requires utmost  attention, let us help you protect it, call immediately (954) 588-5670 one of our friendly Ricketts Roofing Team member will assist you.
5 Good Reasons To Call Ricketts  Roofing And Construction For Your Emergency Roof Repairs
No Hidden Fees –  Up front  price quoted is what you pay  fees included
Licensed & Insured – State licensed and  Insured
Warranty – Warranty on all roofing Jobs
Satisfaction Guaranteed – We work full hundred (100% ) until you satisfied with a smile ear to ear!
Customer Service – Excellent communication (Text 24/7). Excellent  work and  100% customer satisfaction. Our roofers courteous, professionals, knowledgeable and respectful of your property.
Contact Ricketts Roofing and Construction immediately at (954) 588-5670 to set up an appointment for premium roofing for your house in Plantation, Lauderhill, Tamarac and Fort Lauderdale, FL.